When I purchased the St. Helena property that would become Marciano Estate there were twenty acres of vines planted here. It was 2006, and in that first year, I tried to make the best wine that I could with the existing vineyard. It was a good wine, but it wasn't an outstanding wine – it wasn't the wine that I sought to make. I decided to pull out all the vines and replant with four different rootstocks better suited to the varied soil conditions of the property.
I asked David Abreu to join me to help with the replant and manage the new vineyard. During that process, I replanted only ten acres out of the twenty – on only the best soil of the vineyard.
Our experienced team of winemakers share the vision of creating wines that are the highest expression of this site. The team includes consulting winemakers Benoit Touquette and Michel Rolland, along with Bastien Lucas as Winemaker.
A Team of Specialists
THE RIGHT PERSON FOR THE JOB 
"If you want to make great wine, you cannot cut corners.  That has always been my philosophy." 
When I started this project, I looked for likeminded people to help bring my dreams to fruition.  People who were as single-mindedly obsessed with quality as me and that continues to be my philosophy today.
Maurice Marciano
Proprietor & Vintner
About Maurice
Maurice Marciano is a fashion industry legend, a leading patron of contemporary art, and now the founder of Marciano Estate winery. Raised in Marseille, France, he and his brothers moved to Los Angeles and created GUESS Inc., one of the most transformative fashion brands of the '80s and '90s, famous for its trend-setting designs and boundary-pushing advertising. After years of co-managing the success of Guess, Maurice pulled back from day-to-day business operations. Maurice's appreciation of Bordeaux's great wine estates and his trips to Napa Valley shaped a dream of creating a winery to produce wines of the highest caliber. Resolved to work only with terroir capable of yielding the beautiful wines he endeavored to create, a long search culminated in acquiring a historic St. Helena property. By replanting the vineyards and building a state-of-the-art winery, he established Marciano Estate as a producer of exceptional, single vineyard wines that reflect the sensibilities of his native France and a style unique to Napa Valley. As Maurice says, "I am not interested in making a lot of wine; I am interested in making the best wine we can." With the release of wines beginning in 2012, Marciano Estate is on track to be the latest success story in his life.
David Abreu
Vineyard Manager
About David
Raised in the Napa Valley, David, a third-generation rancher, is considered one of the premier and most sought-after viticulturists in the Napa Valley. "As soon as I met David, I could feel his passion and how much he cared about the vineyards.  The properties he looked after were beautiful, the vines manicured to perfection.  I call him the poet of the vines. I knew he was the perfect person to help me bring my dream to fruition. He never compromises, and it's that trait that I love about him." Maurice Marciano
About Bastien
Born and raised in France, Bastien's passion for wine started at the young age of 14 during a summer job at Château Lynch-Bages, helping the winery prepare for harvest.
He returned to Lynch-Bages in 2008 to work an entire harvest. This is where Bastien was first acquainted with the in-depth and meticulous complexity of luxury winemaking and where he developed his passion.
Upon earning a Master of Science in Enology from the University of Bordeaux's Institute of Vine and Wine Science (ISVV) in France, he was fortunate enough to secure internships and work harvests at both Monteverro in Tuscany and Alpha Omega in Napa under Jean Hoefliger's tutelage. Returning to Alpha Omega in 2015, Bastien became Assistant Winemaker in 2017, where he grew and honed his winemaking skills. In 2020, Bastien joined Maxville Winery as a Winemaker.
During his career, Bastien had the great fortune to manage the winemaking of several iconic brands in Napa and Sonoma Valley, such as The Debate, AXR, V. Vineyards, Clark-Claudon, Denali Estate, Harbison Estate Wines, Michel Rolland Napa Valley, SVV, Narsai David Estates and more. With his versatile background, extensive knowledge, and passion, Bastien is uniquely positioned to drive Marciano Estate to achieve the finest quality wine possible.
Michael McMillan
General Manager
About Michael
After spending ten years as chef/owner of 3 high-end restaurants in Florida, Michael and his wife relocated to the Napa Valley in late 2010.  He desired to apply his business acumen and high-level hospitality experience to the wine industry.  Eventually, Michael became the general manager of a small family-owned winery called Seven Stones where he oversaw all aspects of the winery besides the actual winemaking.  Michael stayed with Seven Stones for nine years until the family sold.  At that time, wanting to stay with a small, family-owned, high-end winery, Michael accepted the position as General Manager with Marciano Estate with the goal to carry on the focus of quality in both the wines and the guests' experience that a property like Marciano Estate can provide.
Antoinette Williams
Operations Director
About Antoinette
Growing up in Northern California, only 20 minutes from Napa, Antoinette remembers tagging along with her parents on their wine-tasting excursions to the valley.  Even at a young age, she appreciated the beauty and specialness of the valley.  With a bachelor's degree in social science, a stressful career in human resources, and a brand-new appreciation for wine, Antoinette felt it was time to explore a different career path, which led her back to the Napa Valley.
Antoinette came to Marciano Estate from Silverado Vineyards, where she spent nine years honing her direct-to-consumer skills in events, hospitality, marketing, e-commerce, and club management, eventually leading to the role of Sr. Wine Club and E-Commerce Manager. With over ten years of wine industry experience, she brings a wealth of knowledge and expertise to her role as Operations Director, managing everything from release allocations to wine fulfillment and all DTC operational functions in between. Antoinette has been a welcome addition to the team.
Lindsay McArdle
Director of Sales
About Lindsay
Lindsay was raised in the western suburbs of Chicago by her parents, both second-generation Southside Chicago Irish. Lindsay and her sister were exceptionally fortunate to have a mom who loved food, life, and, you guessed it, wine. After earning her bachelor's degree in finance from the University of Illinois at Chicago, she began a career in global logistics. Only surviving the industry by enjoying a glass of wine upon returning home from work, she soon realized she had inherited her mom's love for wine.
While the city of Chicago has brutal winters, and their sports teams typically result in an increased consumption of wine to put a smile back on your face, Lindsay considers Chicago one of the most spectacular places to live. Regardless, in 2009, she answered the phone when wine called and moved to Napa Valley to chase her passion. It was love at first sight and taste, and once she discovered the ability to have Chicago pizza shipped to her doorstep, there was no turning back.
Throughout her career, Lindsay has had the privilege of working with some of the most remarkable people and wineries in the industry, continually expanding her knowledge and expertise. What makes her journey even more special is that she has been able to share it with her sister, who, along with Lindsay, realized that life is too short to be in a career that doesn't turn your teeth purple.
In her role as Director of Sales at Marciano Estate, Lindsay McArdle continues to be a driving force in the world of wine, sharing her passion and expertise with all who have the pleasure of crossing her path. Her journey from the Windy City to wine country serves as an inspiration to all those who believe in following their heart and pursuing their true passions.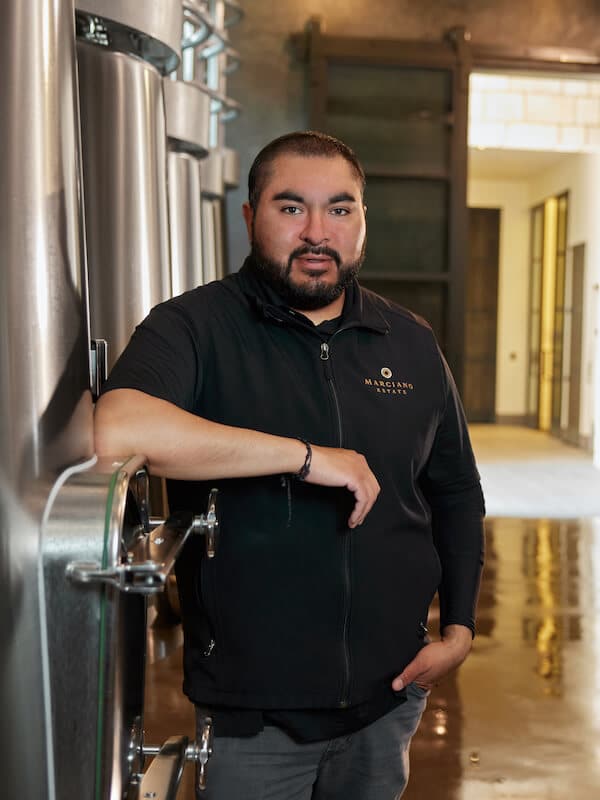 Rene Ramirez
Cellar Master
About Rene
Rene's journey started in high school as a Harvest Intern for Alpha Omega.  Seven years later, Rene had climbed through the ranks to the role of Cellar Master and learned everything about winery production operations from once the fruit had been picked to the finished product.  Starting at Marciano Estate in 2021, Rene's experience, passion, knowledge, enthusiasm, and willingness to learn and help wherever needed have made him an integral part of the Marciano team.
Art Love
THE PROPERTY AS GALLERY
For me, great art is like great wine. Something to take pleasure in, to be passionate about.  And above all, something to be shared. Marciano Estate has become a wonderful home for many of the pieces of
contemporary art I've collected over the last 25 years. These sculptures and paintings – and the artists who created them – continually inspire me.
Click on the image to read Artist Information